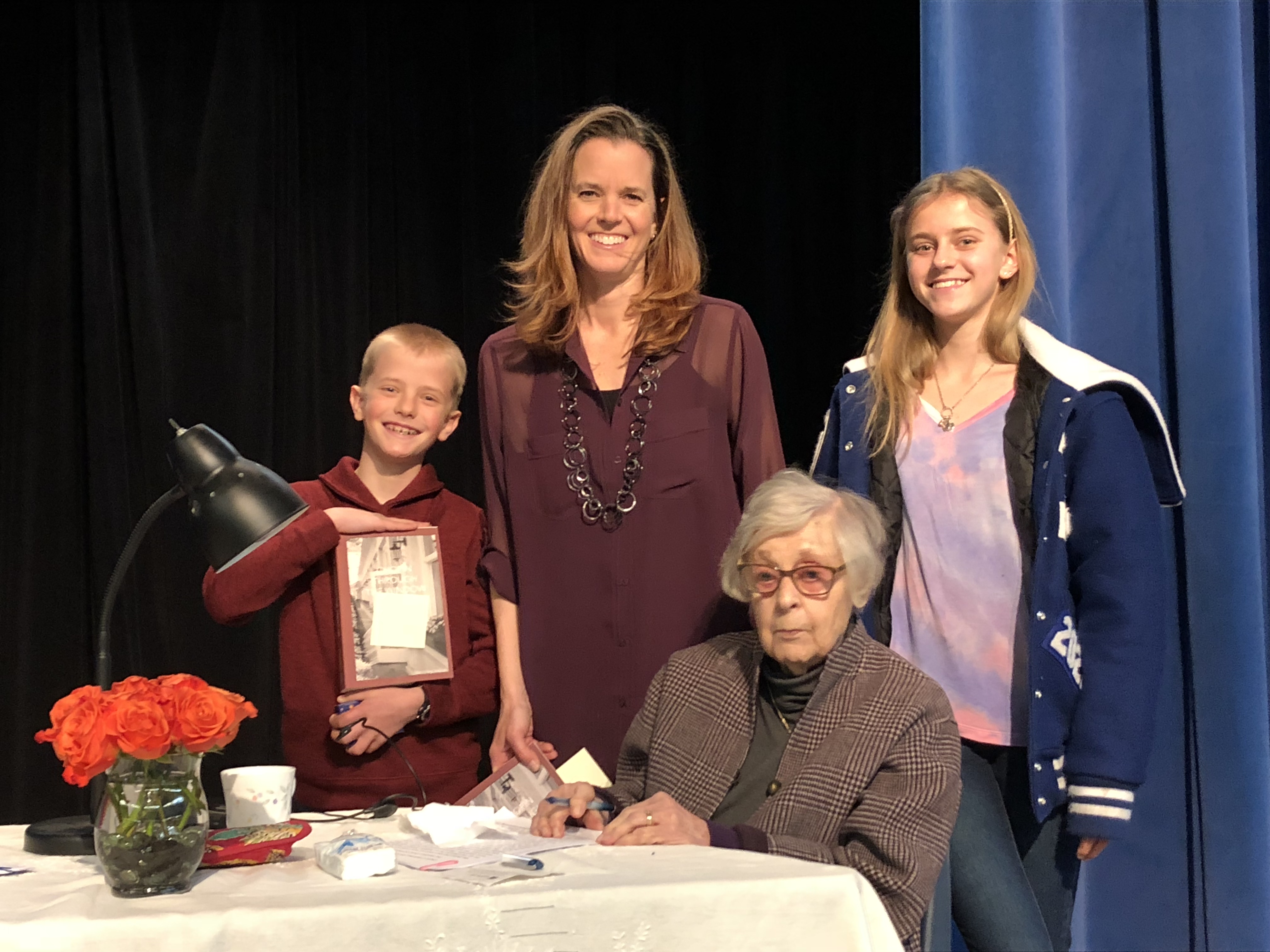 Franziska with granddaughter Dr. Karen Crews Gregg, great grandson Carter and great granddaughter Quin Gregg, Lyons, CO, March 10, 2019 – Photo by Jerry Johnson
March 14, 2019 - Reprinted from the Article in The Lyons Recorder Newspaper, Lyons, Colorado
Forty persons enjoyed hearing about the contents of former Lyons resident and business owner Franziska Stein's book "Chopin Through the Window" Sunday afternoon, sponsored by her granddaughters: Dr. Amy Crews Cutts of Reston, Virginia and Dr. Karen Crews Gregg, Lyons M\S High Band Director, making us all more enthusiastic to read this wonderful book. After more than a decade in the works, the book was completed in December 2018 and is available through Amazon for $20.00, unsigned, or through the Lyons Historical Society, 303 823 5925, for $25.00, autographed.
Franziska was born in 1922 in a village near Karlsbad, Czechoslovakia, and had an idyllic childhood in the Ore Mountains, carefree of the ominous clouds of the post WWI economic crisis, the rise of National Socialism and the impending Second World War. After completing secondary school, she studied French and philosophy at the Karl's University in Prague and performed her civil service obligation as a nursing assistant in the Red Cross during WWII. As a nurse, she met George Stein, an injured German soldier, whom she married, and they had a daughter, Barbara, in 1944, who passed way last September in Longmont, CO. While George was fighting on the eastern front and later taken as a POW, Franziska and her daughter were expelled from Czechoslovakia in 1945 under the inhumane Beneš Decrees.
Franziska's her mother died soon after Franziska made a daring and illegal journey back to Karlsbad to be with her and to retrieve possessions she abandoned under the expulsion order. The Stein's reunited in West Berlin, enduring the devastation of the destroyed city, the Soviet Blockade and Allied Airlift, the deep economic stress for ten years. In 1956 they immigrated to Colombia, and in 1957 began operating a pension hotel in Cali. Franziska was hired by a young attorney from Germany who stayed at her hotel to take in case histories from victims of the Nazi Regime, and for the next forty years she worked a second full-time job to get restitution for several thousand people under Germany's post Second World War compensation laws. In 1966 the Stein's immigrated to the United States and purchased the Cliffside Inn, in Lyons, CO. Rechristened the Black Bear Inn, they operated the iconic restaurant until they sold it in 1977 to Hans and Annalies Wyppler, Following the sale of the Black Bear Inn, Franziska volunteered at the Denver Art Museum, and attended art classes at the University of Colorado. She opened F&B Art Gallery in Longmont, and later operated Franziska's, a restaurant in Longmont. Following the German Reunification, the Stein's moved back to Berlin, Germany in 1990, and she was widowed in 1996. At age 89, she returned to the United States and is now living in Reston, Virginia with granddaughter Amy Crews Cutts and family.